LED BY A TEAM OF PROFESSIONALS
New World Concepts is a corporate marketing and management consultancy based in Karachi, Pakistan since 2001. Our strength is our ability to not simply do well it is to do the best. We offer years of experience in working with the private and public sectors, profit and non-profit organizations. Led by a team of experienced marketing and communication professionals from the best business schools in the USA & UK, we focus on creative solutions which are unique and of the highest quality standards. Our team utilizes innovative marketing, communication tools with both local and global brands and consultancy projects with multilateral institutions.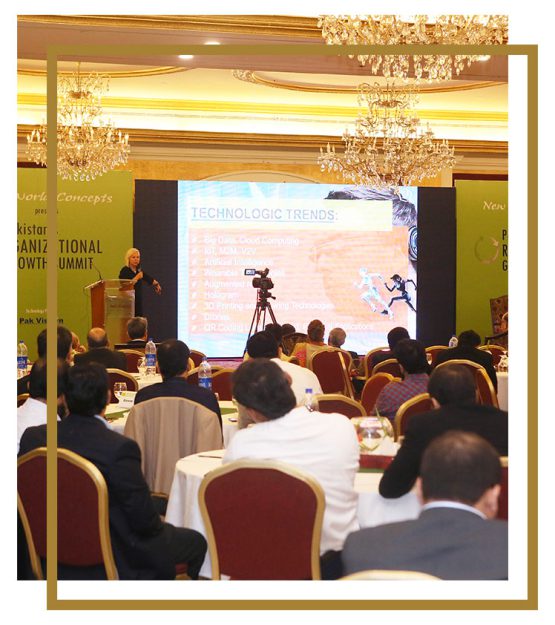 MARKETING SERVICES
A unique and distinctive consultative and marketing approach based on careful detailing and analytical research is adopted for each project. Our strength lies in our conviction that we must excel. We seek to be creative and rely on out-of-the-box solutions to deliver results that exceed the client's expectations. Our wide-ranging and cross-sector operational expertise and an engaged, nurturing approach to partnerships add value to the company's credentials.
Innovative designs for corporate identity, themes, slogans that provide value.
For internal & external communication such as newsletters, corporate profiles.
Corporate Event Management
Includes International Women Leaders Summit, seminars, product launches etc.
Media, PR & Communication
Arranging press conferences, placement of press releases, media monitoring etc.
CONSULTANCY SERVICES
From concepts to delivery, our team remains fully engaged at each stage of the project. Uncompromising professionalism and a commitment to excel ensure that our results meet world-class quality standards. We seek to deliver solutions based on modern concepts that are practical and provide the best value for money.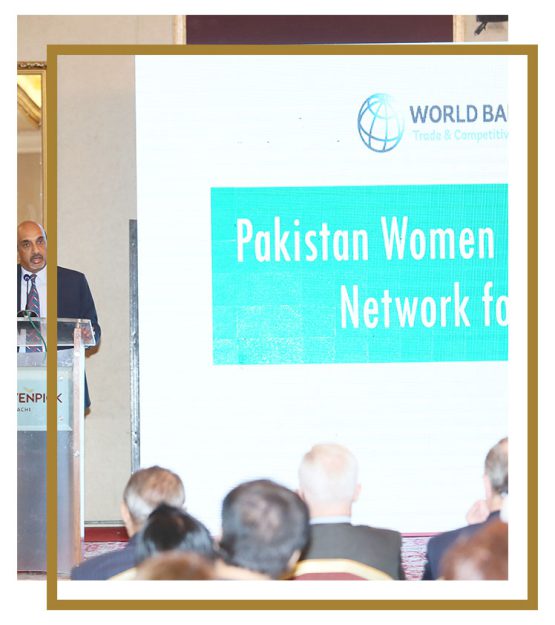 Management Training & Development
Expertise in combining local knowledge with global practices.
IFC World Bank Group Business Edge licensee, Insurance & HSE.
Women on Boards initiative with IFC World Bank Group.
Women Entrepreneurship & Leadership
Contracted by World Bank Group to form Pakistan WE-NET.
Following are some of our successful projects
WBG – IFC Pakistan
As official licensee partner of WBG – IFC Business Edge management development program, NWC approached by WBG to form Pakistan Women Entrepreneurs Network for Trade. NWC also did Understanding Drivers of Women Employment in Pakistan project in the past.
Women in Business
NWC has initiated and organized the International Women Leaders Summit conference series since 2012. The launch of Pakistan Women Entrepreneurs Network for Trade (WE-NET) on 9th November 2017 supported by World Bank Group and the Australian Government.
Pharma Marketing
Includes events for Pfizer Pakistan, Hidden Faces of Diabetes at Karachi, 21st November 2017; OBS Pharma, Women's Health Matter Summit at Sialkot,
4th October 2016; Uroph Summit at Dubai, U.A.E. & Anti-Infective Summit 2011 at Bangkok, Thailand etc.
SMEs
NWC trained members of Karachi Chamber of Commerce and Industry (KCCI) and Korangi Association of Trade and Industry (KATI) on Business Edge training modules. NWC trained women entrepreneurs from Peshawar on 'Communication & Negotiation Skills'.
Trade & Commerce
NWC launched Pakistan Women Entrepreneurs Network in 2017 supported by World Bank Group and the Australian Government. Conducted Consultative Sessions for 'Pakistan Trade Facilitation Project: Challenges in cross-border trade for Women Entrepreneurs' for World Bank Group.
Pakistan's Culture Promotion
NWC partnered with Shell Pakistan in organizing a fundraising event at ROHTAS FORT, near Rawalpindi for preserving its heritage. NWC engaged with Pakistan Poverty Alleviation Fund and Adamjee Insurance to highlight Pakistan's rural handicrafts and artisans.